【中古】 プッチーニ:歌劇「トスカ」 /ジェイムズ・レヴァイン 【中古】afb
[]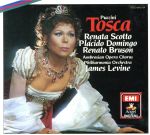 (Item ID:bookoffonline:13566552)
Payment Option
you can use credit card(Exclude Bidding) or remit money the 1 & 2st
Translation tool
Purchasing orders will be held Monday to Friday from 1:00 pm to 9:00 pm, unify purchasing orders , if the merchandise is limited quantity or has to be ordered instantly please call and inform the company's services commissioner.more..
More Details
choose "size(It Depents)", and "quantity", please click "Buy Now"
Buy quantity :
Please concider the international shipping fee. Calculator
Attention, please do not buy items that we do not handle. Check Restricted Items
Some

Sellers

have a

NO RETURNS Policy

for their items,make sure you understand the specific rules before you make the purchase.